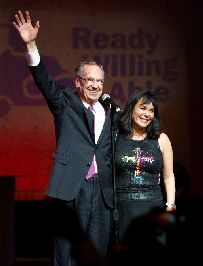 Founders
George T. McDonald and Harriet Karr-McDonald
When Harriet Karr boarded a plane from Los Angeles to New York City more than 25 years ago, she was overcome by a profound feeling of loss. The successful Hollywood actress and screenwriter had just learned of the suicide of April Savino, a 19-year old homeless girl she had shadowed in Grand Central Terminal and on the streets of New York City for a new screenplay. Harriet had first traveled to New York to capture the dreams of this girl who struggled with addiction and street life. Now she was returning to New York to say her goodbyes.
While Harriet was on board the plane, George McDonald was sitting in his tiny Single Room Occupancy unit working on April's eulogy, with each word becoming more and more reenergized for what became his daily fight. Speaking on behalf of homeless people was an honor he had come to know with increasing frequency in the late 1980s. And the people George served sandwiches to in Grand Central Terminal were preparing to rise up with him. They appreciated the food, but what they really needed was a room and a job to pay for it. They had dreams beyond the Terminal. George not only listened, he believed.
Read More...